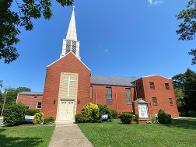 Contact Us

Office Email: oaklynbaptist@gmail.com

Pastor Phyllis Email: OBCPastor29@gmail.com

Office Phone: 856.854.8555/Feel free to give a call

Fax: 856.854.8591

Food Pantry: 856.895.8801

Office Hours: Mon.-Thurs. 9:00am-1pm.
29 E. Bettlewood Ave.
Oaklyn NJ, 08107
Welcome!

We would love for you to Come and Worship with our Pastor, Rev. Phyllis Martin and Church Family.
You can learn more about Pastor Phyllis by clicking here
We are meeting in-person for Worship on Sunday Mornings. Please join us.
Service begins at 11am. See you soon!
About Us
We are a community of faith that, for over 100 years, has sought to imitate the life of Jesus and walk in His footsteps.


We as a church have organized around what Jesus said the purpose of the church was to be:
To love God through service to our neighbor.


Whether you're new to the neighborhood or new to worship, we welcome you with open arms.
Please join us Sunday mornings at 10:45am for more information ** click here.**

Our building is Handicap Accessible with a full sized elevator and wheelchair ramp.

We believe that God has called on his church to give faithfully from our first-fruits (Proverbs 3:9). We do not feel it is an obligation of the church to demand giving however each Christian is to give cheerfully and liberally (2 Corinthians 9:6-7). We ask that regular attenders and members of our church consider tithing. We have a moment to collect tithes and offerings during our Worship Service and we also have the capability to give directly using the service SimpleGive (link above).
Community Activities
OBC hosts a
Community Food Pantry
that serves over 80 families monthly. We are committed to serving our community.
If you know a group that could use our help, drop us a line.
29 E. Bettlewood Ave, Oaklyn, NJ | 856.854.8555